CTS sponsored team tops the league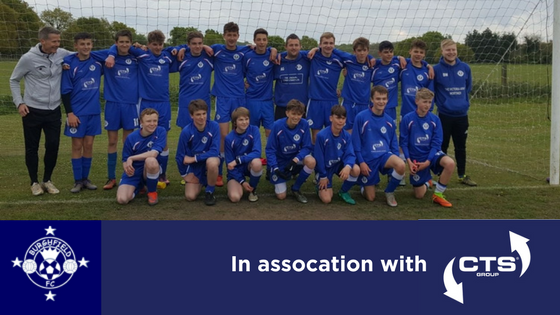 With tremendous pride, we can report that the CTS sponsored Burghfield U15s Football Team has finished the season at the top of the league, hailing celebrating them as the champions we always knew they were.
Their determined ascent was evident even back in March, when they overcame injury to play a high tempo game against Shinfield. Going from 3-0 down in the first half to finishing 3-3 in the last 20 minutes was a reminder of the huge character and ability of this team. Playing against Woodley Spitfires that same month, the lads triumphed again despite being four players down due to Duke of Edinburgh commitments. There's never been any stopping this mighty bunch, has there?
After a 2-2 finish against Spencers Wood in April gave them a chance for league success against main competitors Camberley, Burghfield U15s went into their last game of the season against Mytchett hungry for the win. With all players present, the team set out to do a thorough warm up in preparation for what was essentially a cup final.
Coach Adam Green shared with us the message the managers gave the boys before that all-important game:
"We play the best football in the league when we relax and just enjoy our free-flowing, quick pass on the floor approach so just go and do that. If it doesn't happen in the first ten minutes, that's not the end of the world. Camberley's result the previous weekend is a blessing and a warning; there are teams out there looking to upset the party – don't let Mychett do the same."
Burghfield led 1-0 at half time, closing the 2nd half at 1-1 with a late Mychett equaliser. It was at this point we all knew that our team had indeed picked up the points from a previous league decision to win the league! Just check out the happy faces in the photo, taken immediately after their final match when they knew they had secured their position at the top. Congratulations lads! It's been a truly fantastic season and you've demonstrated excellence at every turn.
CTS is supporting a U15 Lads vs. Dads event on Wednesday 17th May. We're presenting an award for the most improved player and providing pizza and refreshments. Did you know that we're also sponsoring the Burghfield Football Festival; a two-day event happening on 10th & 11th June? More details to follow…