A summer full of community events for CTS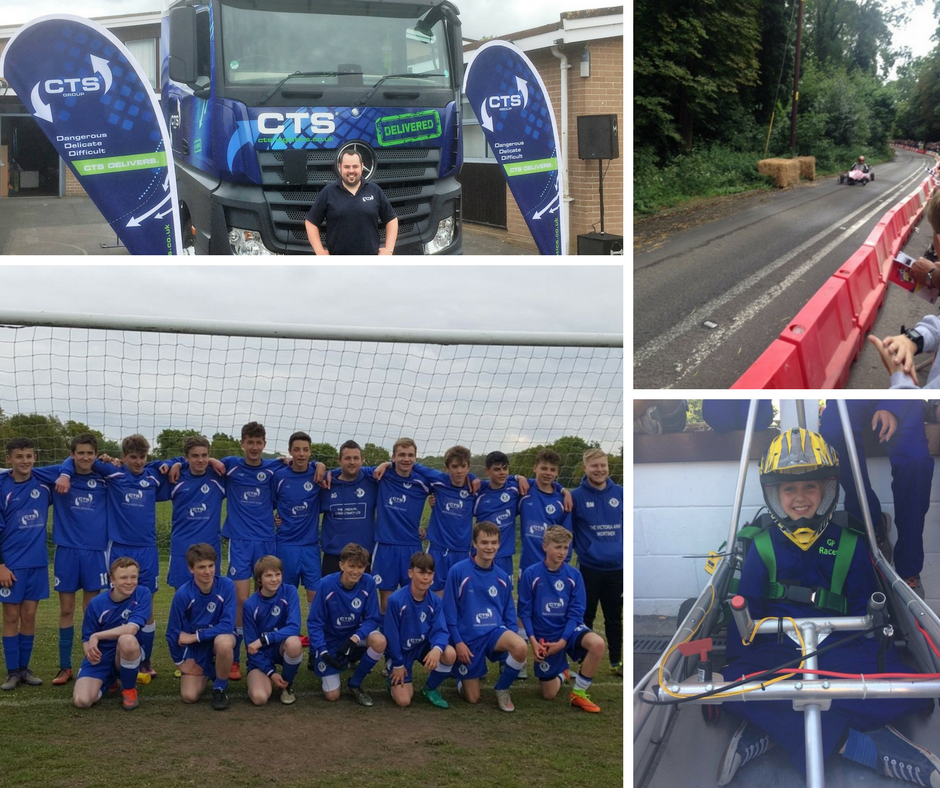 Our core values of excellence, adaptability, strategic focus, and integrity are woven through every aspect of the work we do, and that certainly extends to the important community and charity activity we take great pride in being involved with. Here's a round-up of all the exciting events we've been supporting this summer…
Burghfield Football Festival
Summer in the UK doesn't always mean hot weather but it does mean festivals and top sporting action. Luckily, the weekend of 10-11th June saw a winning combination of all three! From Popley to Purley and Eversley to Theale, over 200 teams from across the South of England packed the pitches of Burghfield to take part in a weekend of matches for the annual Burghfield Football Festival, sponsored by CTS.
The children did everyone proud, setting a fantastic example and demonstrating team spirit. A big thanks to the teams that entered, the top-quality referees, our army of hard working volunteers and all the supporters. What a fantastic way to close what has been an enjoyable season for all our local teams, not least CTS-sponsored team Burghfield U15s who came top of the league this season. We hope to see you all again at the festival next year!
Goblin cars at Goodwood
Goldstone Primary School in Hove entered two Goblin Cars in a race at Goodwood Race track on 9th July. Just in case you're not familiar with Goblin Cars, the aim is for children aged 9-11 to build their very own functioning and drivable electric car. The project introduces children to basic mechanics and upon completion they can drive their car at various events around the country, such as this one at Goodwood.
In the run up to the race, the teacher, Sally, and children (pit crew and drivers) met every Thursday to build the cars and CTS sponsored them because we believe in the strong skills and values fostered by projects like this: innovation and creativity, teamwork, decision-making, sportsmanship and – of course – impeccable driving!
Burghfield Box Car Race
So, when you think of racing you think of Goodwood, Silverstone…and Burghfield? Yes, the popular Burghfield Box-kart Bash took place on 25th June on one of the village's biggest hills, with entrants racing their home-made karts. There were three prizes up for grabs – fastest, best engineered and people's favourite. The event took place to raise funds for Burghfield-based Guide Dogs and the Thames Valley Air Ambulance and we were delighted to lend our support to this amazing volunteer-run event in aid of local charities.
Thatcham Primary School Fete
One of our trucks paid a visit to Thatcham Park C of E Primary School fete at the end of June.   Well, we're always on the lookout for new recruits for our Driver Academy… The children thoroughly enjoyed sitting in the cab, mostly because they got to be taller than their parents!
For one of our current Driver Academy recruits, the inspiration to drive a HGV began when he was just 4 or 5 years old: "I can still distinctly remember riding in the back of my parent's car driving past the big trucks, wondering what it must be like to drive them. Where are they going? What are they hauling? Why do they look so big and cool?" Maybe our visit to Thatcham Park C of E Primary School will have ignited some more young imaginations in the same way…
Felix Festival
As summer draws to a close, our community spirit keeps on going. We're incredibly proud to be supporting The Felix Festival in Silchester on 16 September 2017. The first Felix Festival was held in 2015 and raised £24,000 for the Felix Fund, which is a registered charity supporting military personnel who have conducted or assisted with bomb disposal duties, and their families. The current focus is funding therapeutic normalisation breaks to help bomb disposal teams re-adjust to life in the UK after serving in Afghanistan.
Organised entirely by volunteers, the Felix Festival relies heavily on the sponsorship of local businesses. Featuring live bands, a DJ set, on-site bar, catering, free parking and camping, this is sure to be a fantastic night out in aid of a very worthwhile cause. Tickets (£25) and further information can be found at www.felixfestival.co.uk