Do you have what it takes to join our Driver Academy?
Meet Josh, one of our Driver Academy recruits.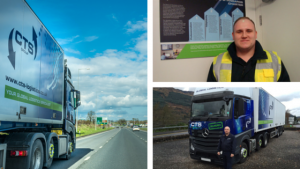 Previously employed as a delivery driver for Sainsbury's online grocery shopping section, Josh was keen to establish a driving career as an HGV driver, however, the cost of gaining an HGV licence seemed out of reach.
"When CTS launched their Driver Academy I jumped at the chance of applying. Colin's training is of a very high standard. He also believes in 'on the job training', taking me to Scotland on my second day which was brilliant as I'd never been there before." said Josh Hawkins.
"With my dad being an HGV driver, I appreciate the benefits that an HGV career can offer, especially to somebody like me who really enjoys driving and travelling to unusual places. In the last year, I've enjoyed some recreational driving around Europe, clocking up thousands of miles – it's all great experience for my journey with CTS."
For our next intake of Driver Academy recruits register your interest today.
Why Choose Us
Highest levels of Service Delivery
We work hard to ensure our delivery of services and solutions are aligned with CTS' founding values: excellence, adaptability, strategic focus and integrity.
Forward Thinking Company
Comprehensive Services
Contact Us Now
+44 (0) 118 970 0179


All CTS staff have been security cleared to SC level by the UK Government.