CTS achieves ISO 27001 certification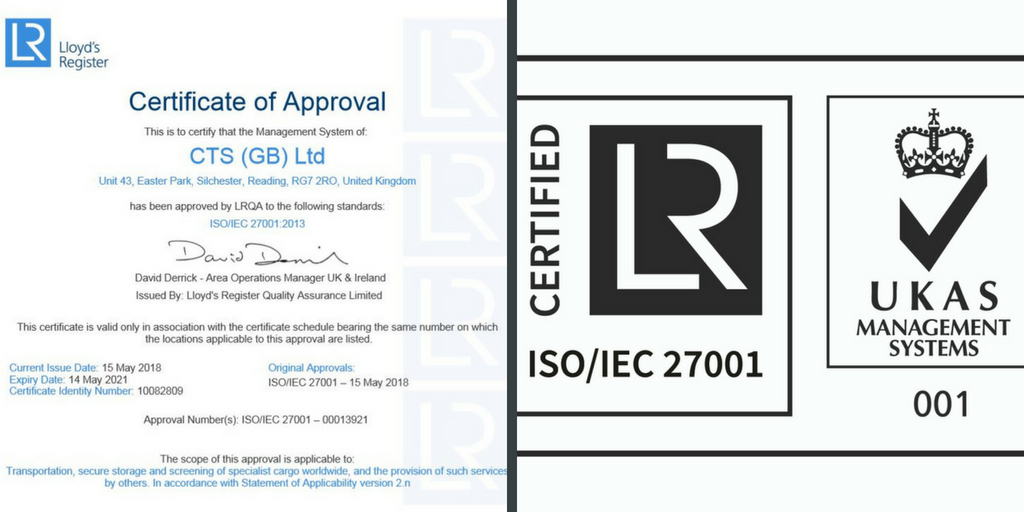 High levels of Information security management are critical for the specialist industries in which we operate, so we are delighted to announce CTS has achieved ISO 27001 certification.
Gaining this certificate via one of UKAS' certification bodies, Lloyd's Register allows us to further demonstrate to clients our high levels of compliance.
"Having a robust information security management system (ISMS) in place offers our customers additional reassurance that we are the best choice when it comes to the transportation of dangerous, delicate or difficult goods across the globe." says Nick Collins, Managing Director at CTS.
Along with ISO 27001, CTS' many accreditations include:
Fully accredited and audited on the Achilles Utility database.
Class B Cat III carrier – Transport Security Statement approved by the ONR (Office for Nuclear Regulations).
Awarded a place on the RM3798 Courier Services Framework
ISO 9001.2008 for Quality Assurance
IATA accredited
Regulated Agent Approved (no. 901)
Authorised by the Home Office to transport & store Section 5 cargo
Certified as a member of the Approved Community under the UK/US Defence Trade Cooperation Treaty (DTCT)
Certified to handle dangerous goods in UN Classes 1-9 for road, sea and air transportation
Licensed to store dangerous goods
Approved goods carrier for the UK government and major defence organisations