CTS wins two new NHS contracts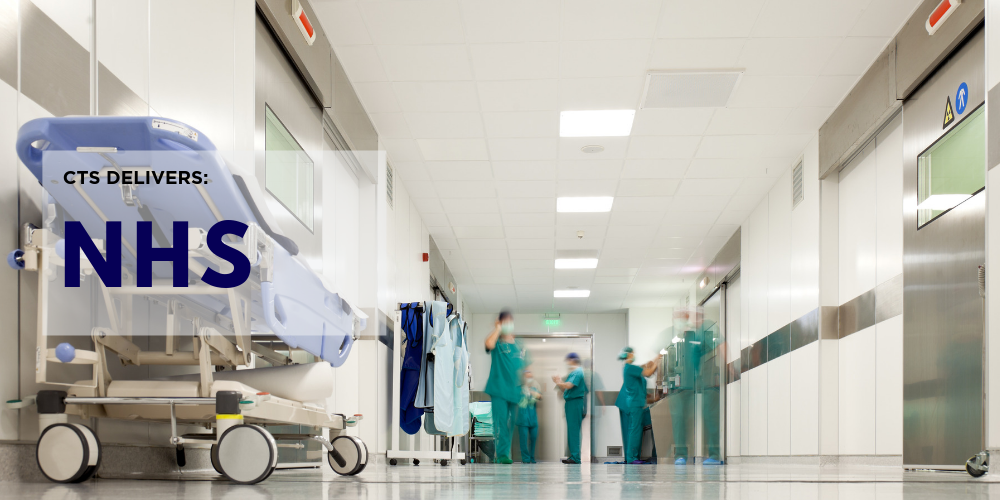 CTS is proud to announce that we have secured two new contracts to work with the NHS, transporting UN Class 7 material and security sensitive consignments.
The win once again highlights CTS' reputation for excellence in the specialist logistics market, where we are recognised by various government departments for our skills and expertise in the safe and secure movement of ADR UN Classes 1-9 hazardous goods (including explosives, radioactive and bio-hazardous waste) as well as security sensitive consignments, such as data.
A logistics challenge
Due to the nature of the waste they dispose of daily, medical establishments such as hospitals and laboratories must carefully evaluate suitable transportation companies.
With the risk involved in moving dangerous material like surgical equipment and potentially infectious blood samples, it is critical that they make sure any organisation they employ has the up to date knowledge and credentials necessary for transporting special classes of biohazardous waste.
One way medical establishments can be sure they're working with an approved logistics company is to consult the Crown Commercial Service (CCS), a public sector organisation that acts on behalf of the Government to improve the quality of commercial and procurement activity.
The Crown Commercial Services has several framework agreements that public sector organisations such as NHS Trusts can use to find quality services that are compliant with current regulations, whilst also gaining value for money. CTS has held a place on the RM3798 and RM3799 Courier Services Framework – a collaborative public sector agreement established by Crown Commercial Service and YPO – since early 2017.
Regarded as the "go-to" place for expert commercial and procurement services, CCS framework agreements are used by central government departments and organisations across the public sector including local government, health, education, not-for-profit and devolved administrations.
Specialist capabilities
Our place on the RM3798 Courier Services Framework is enhanced by our extensive capabilities in the transport of ADR UN Classes 1-9 hazardous goods, using a dedicated fleet of high security satellite-tracked vehicles.
CTS has an experienced team of Radiation Protection Supervisors and security cleared and ADR certified drivers, all of whom have specific training in radiation safety and who are registered with an HSE Approved Dosimetry Service. Quality-controlled procedures follow proper transportation protocol and include security movement plans, emergency and contingency arrangements.
In safe hands
Partnerships such as these new contracts with the NHS also demonstrate our competence to move security sensitive consignments – another area of potential vulnerability for public sector and commercial organisations alike. CTS invests heavily in the infrastructure required by government departments to move data compliantly, so that important information such as patient records is always protected.
We meet these demands with security movement plans deployed by security cleared drivers and escorts, as well as in-house threat detection screening services, secure storage (overnight, short-term and long-term) and dedicated point-to-point transportation.
Nick Collins, managing director of CTS Logistics, reflects on our relationship with these new NHS clients:
I'm delighted to see our special services recognised by securing these contract awards and look forward to expanding our operation further across the NHS.
Contact us on +44 (0) 118 970 0179 to learn more about how we can help you with the transport of ADR UN Classes 1-9 hazardous goods shipments (including radioactive and bio-hazardous waste) as well as security sensitive consignments.