Cup final triumph for CTS-sponsored team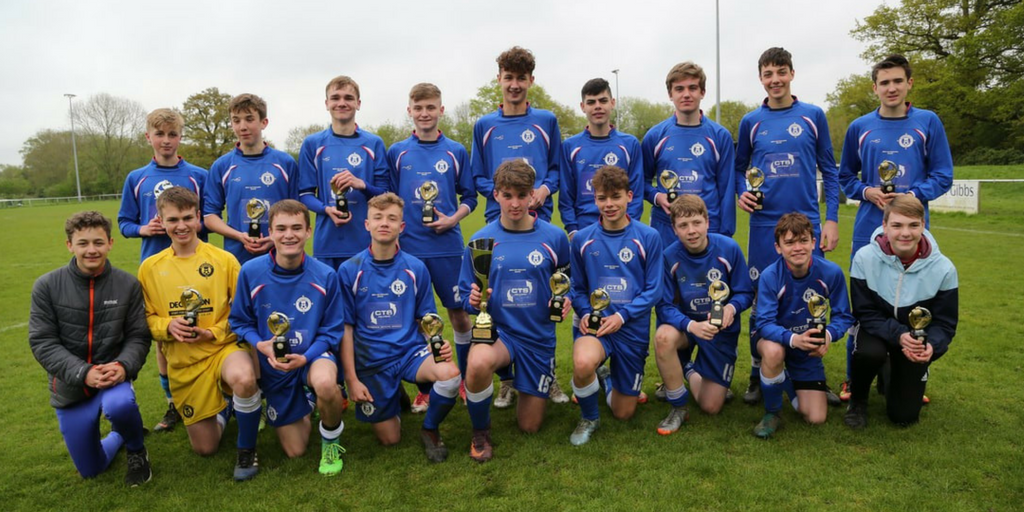 'Cometh the hour, cometh the man'… Saturday 28th April 2018 was a day of reckoning for CTS-sponsored football team, Burghfield U16s, as they took on South Reading FC in the East Berkshire U16s Cup Final.
After some recent forgettable results, going in to a final against a squad that had so far been undefeated was an occasion that demanded big characters, top performances and brave hearts from our players. Isn't that what makes sport so galvanising; a classic underdog encounter on a cup final stage, when form and league position count for nothing and there's everything to play for in just 80 minutes…
First half: contain and frustrate
With the opposition carrying the weight of expectation on their backs, 'contain and frustrate' was the mantra of the match as the Burghfield lads were encouraged by their coaches to surprise South Reading with more skill than they might have been anticipating.
Using a formation which was slightly different to their usual set up, our boys did exactly that. They broke down their attacks as quickly as possible; pinning South Reading back in their half, winning headers, throwing in strong challenges, and generally entertaining spectators with some jaw-droppingly smart play.
South Reading did manage to pick up a goal to become 1-0 leaders at half time, but they weathered a tiring game to get it, quite literally making the second half an open playing field…
Second half: persevere and win
What a second half performance this was! With too many top performances to mention, the entire Burghfield U16s squad upped their game. After the first goal got nodded home from a set piece, the boys genuinely believed they could bag the cup. Clever tactics continued and our tenacious team caught their strikers offside many times. With 10 mins to go, one of Burghfield U16s came from deep to receive the ball, took a touch, laced it from 25 yards – evaded all players along the way – then clipped the post, before rolling all the way across the side netting. GOAL! At the final whistle, our celebrations could begin.
Making us proud
Ian Ward comments: "As coaches, we have always believed that this group of boys have got what it takes to be a great football team. Over the last few months as we have worked on all manner of coaching aspects –  from how they arrive at training and match days, how they conduct themselves on and off the pitch, as well as developing them technically and physically for this level, and we have begun to see them respond and to grow and develop into a strong and purposeful unit. Saturday, on the most important day of this team's evolution so far, they delivered in stunning fashion."
Coach Adam Green adds: "It showed a massive amount of maturity to stay patient in a cup final, even at 1-0 down, and keep the faith that it would pay off. I'd like to thank every player in the squad for being there on the day in whatever role – you are a credit to Burghfield U16s and I am so, so very proud of you all."
…and here at CTS, we second that! Many congratulations on your excellent cup final victory.