CTS extends fleet to meet demand for dangerous goods road transport across the UK and throughout Europe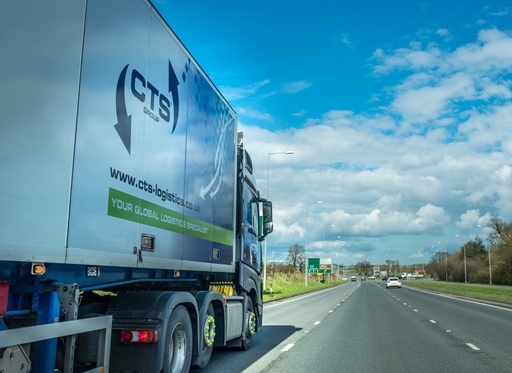 Increased demand for dangerous goods road transport sees CTS invest in another safety and security enhanced EXIII side and rear loading, hard sided trailer to the fleet. Over the past two years, CTS has invested £750K expanding their fleet which includes 'Ekeri' trailers, customised to Ministry of Defence specifications.
Boasting the following features, our high security trailers ensure the highest levels of security for your shipments:
triple locking mechanism secured by a pneumatic lock, key and padlock
remote deadbolting, in or outside of the cab
panic buttons linked to our control office
separate satellite tracking systems for cab and trailer
tamper-evident security seals
anti-prying doors
additional 3mm of hardened aluminium flooring
1.5mm aluminium protecting plate for impact and security protection
alarm system with audio & visual alerts, linking to our control office
Our 'Ekeri' fleet is ideal for dangerous goods road transport or moving shipments of a high-value across the UK and throughout Europe. Fitted with pneumatic locks, the side and rear loading doors can be programmed to be securely controlled by our Operations Desk, meaning even our drivers cannot gain access to the load. When your goods reach their final destination, our Operations Team can authorise access for the driver to unload direct to customer.
As well the EXIII certified 'Ekeri' box trailers, CTS' enhanced fleet comprises a variety of 2.8T to 44T vehicles, including:
Latest and highly desirable 44T Mercedes ACTROS GigaSpace articulated trucks
Six-seater 7.5T vehicle suitable for project moves where a team of movers is required to pack, load and unload goods
Compact Mercedes CITAN vans for primarily for small IT hardware moves within cities and busy towns
Specially designed padded vehicles for the shipment of delicate shipments e.g. large IT hardware, calibrated equipment
Selection of vehicles fitted with extendable and smooth-motion cantilever tail lifts providing ability to lift large heavy and delicate goods with ease
Abnormal load escort vehicles equipped with flashing warning beacons
If our blog is of interest, ask us how you could utilise our prestigious fleet to move your dangerous, delicate and difficult goods by road across the UK and throughout Europe.
Do you have an immediate requirement for dangerous goods road transport? Call our team today on 0118 970 0179 option 1.