Meet the high-security duo: CTS strengthens road transport capability with introduction of Ekeri trailers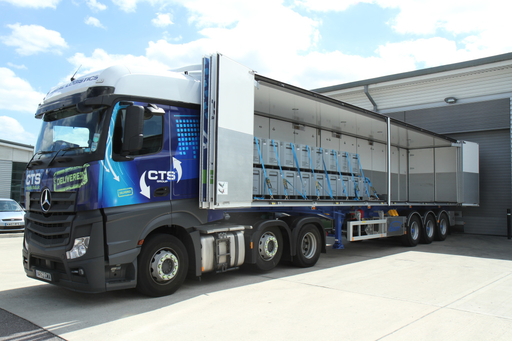 Continuing our heavy investment in the latest high-security technologies, we have recently introduced two 13.6m Ekeri box semi-trailers to our prestigious fleet.
Boasting flexible loading through the side or rear doors, our Ekeri trailers are perfect for the transportation of all kinds of goods, but are especially suited to the movement of explosives, munitions and goods requiring a high level of security.
"Specified to ADR EX Type III, our new box semi-trailers can be controlled remotely with Ekeri's surveillance and control system, Ekeguard. This impressive technology allows your load to be completely locked down, with access only granted when remotely activated by authorised CTS personnel." says Nick Collins, Managing Director at CTS.
Nick continues: "This level of security is key for our defence and military customers, but can equally be important if your organisation ships assets of a high value."
Key features of our Ekeri fleet include:
ADR EX Type III
Side loading, but hard-sided
Central locking system can be controlled by CTS Operations at head office
In addition to central locking, each door can be secured independently
If a trailer is tampered with, an alarm sounds sending an automatic alert to authorised CTS personnel
Tracking system ensures our office has a live feed of route/location
To find out more information about our Ekeri trailers, please contact [email protected]