Highlights of CTS' 20th anniversary year: 2017 in review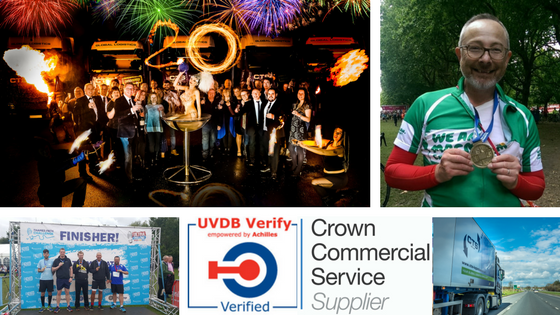 Another year of hard work and focus has enabled CTS to progress significantly during 2017. As we celebrated the company's 20th birthday, our achievements and accreditations multiplied, and CTS is recognised as a serious player in specialised supply chain logistics for Government & Defence and Civil Nuclear. In addition, our wide range of capabilities allows us to assist a growing number of organisations requiring high-security site logistics for new and established sites.
Let's look back at our highlights of the past year…
In 2017, CTS:
achieved CTS Class B carrier approval from the Office for Nuclear Regulation (ONR) for the transport of Civil Nuclear material, making us one of only 4 UK logistics companies in the whole of the UK with this accreditation
was awarded a place on the RM3798 and RM3799 Courier Services Framework; a collaborative public-sector agreement established by YPO and Crown Commercial Service (CCS), a public-sector organisation that acts on behalf of the Crown to drive savings for the taxpayer and improve the quality of commercial and procurement activity
implemented Data Guardian, taking an extra step towards making information security watertight in a climate of growing risk and working towards an UKAS ISO 27001 certification.
became rated as "STRONG" in an analysis of the UK's 1500 largest road haulage companies by Plimsoll, a renowned provider of market analysis and intelligence across a huge range of sectors internationally
further expanded our fleet with several new vehicles including 44T ADR EXIII specialist trucks and high security EKERI trailers
successfully put more drivers through LGV training in our Driver Academy, with a greater number of new candidates recruited on to the programme
attended the National Employment & Careers Fairs in Aldershot and Tidworth, organised by The British Forces Resettlement Services (BFRS); a Social Enterprise created to help the Armed Forces Community (AFC) with their transition into civilian life in new job roles, such as drivers for CTS
gave our support to The Road Haulage Association's 'Love a Lorry Week' to help inspire fresh driver talent to join the industry
over-achieved our goal of raising £2020 for charity in our 20th anniversary year, by sponsoring, supporting and participating in events such as The Felix Festival in Silchester, RideLondon 2017, Burghfield Football Festival, and Burghfield Box Car Race – to name but a few
The pride in these achievements fuels our motivation to drive CTS further onwards in 2018, offering specialised supply chain logistics of the highest calibre; always striving to meet the changing needs of the marketplace and resolutely going above and beyond for every customer.