Raising funds and improving lives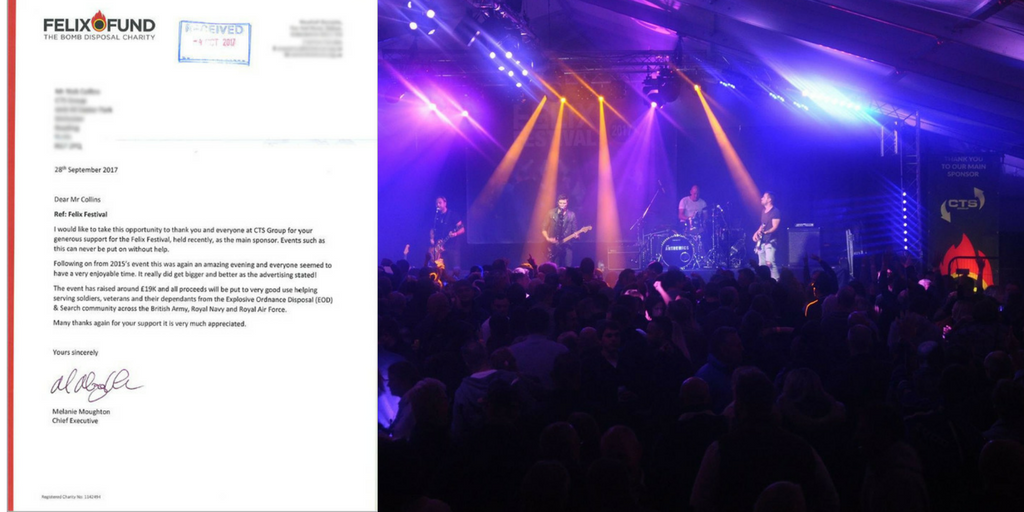 We believe that it's vital for local businesses to support important charity and community activity, so it was a great honour to receive a letter recently from Melanie Moughton, Chief Executive of Felix Fund. She kindly wrote to thank everyone at CTS Group for our support with the recent Felix Festival in Silchester. CTS was the main sponsor and we were incredibly proud to be involved.
Organised entirely by volunteers, the Felix Festival has been going from strength to strength since 2015 and features live bands, DJs, great food & drink, and camping. It's a fantastic event in aid of a very worthwhile cause, the Felix Fund. This registered charity supports military personnel who have conducted or assisted with bomb disposal duties, and their families. One current area of focus is funding therapeutic normalisation breaks to help bomb disposal teams re-adjust to life in the UK after serving in Afghanistan.
The funds raised are already being used in various ways to improve the lives of people affected by their bomb disposal work, including contributions towards expenses for an ex-Sapper who needs to travel to Australia for pioneering surgery to enable him to walk with prosthetics. He lost both legs in Afghanistan and has been house bound, confined to a wheelchair. Other beneficiaries include a former serving soldier who has been given funding towards a replacement stair lift to enable him to remain in his own home.
"Events like this can never be put on without help," Melanie Moughton says of the festival. "Following on from 2015's event, this was again an amazing evening and everyone seemed to have a very enjoyable time. The event raised over £19K and all proceeds will be put to good use helping serving soldiers, veterans and their dependants from the Explosive Ordnance Disposal (EOD) & Search community across the British Army, Royal Navy and Royal Air Force.
"Many thanks again for your support – it is very much appreciated".
Thanks to the Felix Fund for allowing us to be a part of such a special cause.