Six-Seater 7.5T vehicle is welcomed addition to CTS' security and safety enhanced fleet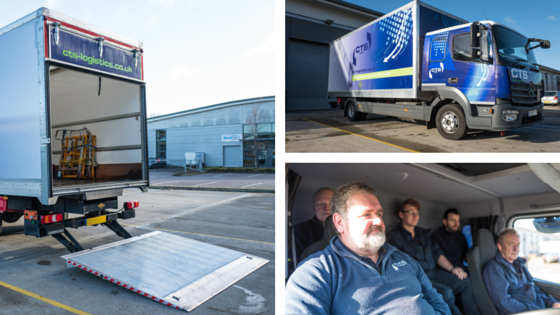 During the past 12 months, CTS has invested an additional £500K on new security and safety enhanced vehicles. One notable addition is a six-seater 7.5T Mercedes Atego, ideal for conducting on-site facilities logistics, such as IT hardware relocation and furniture moves for high security organisations.
Historically, extra vehicles would be used to transport the CTS team, pushing up costs and reducing the number of available delivery vehicles. Today, the six-seater eliminates these issues and means CTS can provide highly competitive prices for specialist project moves.
Although specified for Class 1 and dangerous goods road transportation, the six-seater 7.5T can equally be used to move delicate IT or pharmaceutical equipment across the UK and Europe. Having a cantilever tail lift also simplified the movement of sizeable items like IT hardware and furniture.
In addition to the six-seater 7.5T vehicle, CTS' enhanced fleet comprises a variety of 2.8T to 44T vehicles, including:
Latest and highly desirable 44T Mercedes ACTROS GigaSpace articulated trucks
Side and rear loading EXIII certified Ekeri box trailers
Specially designed padded vehicles for the shipment of delicate shipmentsg. IT hardware
Selection of vehicles fitted with extendable and smooth-motion cantilever tail lifts providing ability to lift large heavy and delicate goods with ease
Abnormal load escort vehicles equipped with flashing warning beacons
Talk to CTS today about how you could utilise our security and safety enhanced fleet for logistics services such as Class 1 road transportation and on-site project moves.