Warehouse Operative
Location: Easter Park, Silchester, Reading.
We are looking to recruit an Operative to join our Warehouse team. The individual will need to be multi-skilled to be able to rotate around the various 'stations' within our scanning & storage operation although training can be provided to fill any skills gaps:
Goods in
Manage deliveries to unit, receive goods in, check freight against booking in criteria & Level 2 PAS97:2015 specifications, check and sign paperwork, PODs etc., scan barcode, log deliveries manually and on WMS (carrier, consignment details, end recipient/building)
Unload vehicles using fork truck
Screening
X ray Screening of post and cargo (NXCT, PAS 97 (Mail Screening & Security) and CO (former Level E) Air Cargo Security training will be provided)
Goods out
Goods out (picking, packing, barcode scanning & sorting freight into stillages/cages/pallets for delivery, preparing manifests, loading & sealing vehicle)
General duties including answering telephone, reworking & palletising freight, tidying/cleaning warehouse, stock taking, occasional driving as part of CTS crew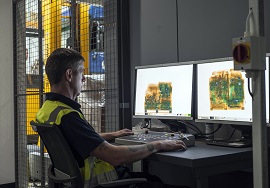 Required:
It is essential that you are a very customer focused individual who understands the importance of adhering to the highest standards with regards to security & quality protocols and customer expectations.  Exceptional attention to detail and a positive 'can do' attitude is vital to be a successful part of the 'slick' operation required of the warehouse team.  The role involves a high degree of manual handling of freight.  Basic computer skills are important to be able to be trained to use the Warehouse Management System (Sterling Solutions).  A driving licence (maximum of 3 points and no current DD/DR/TT points/disqualification) is also essential.
Hours:
The team work rotating 9½ hour daily shifts with a half hour for lunch unpaid, (45 hour week) to cover the opening hours of the warehouse (5am to 7pm).
LGV C+E Security Driver
£36,400 pa rising to £37,700 pa post probation
Silchester, Nr. Reading and surrounding area
CTS is a global logistics specialist and we move high consequence dangerous goods by road, sea and air for government and defence customers. We have been an approved haulier for the UK MOD since 2000.
We are a growing company with an exciting vision for the future and this is where you come in. We're expanding our fleet and are seeking careful, professional drivers to undertake difficult, dangerous and delicate moves for our prestigious customers.
What does this mean for you?
Your working week will generally be Monday to Friday, averaging 55 hours, with occasional weekend overtime as part of a rota and as business needs dictate. Hours will vary from week to week but you should expect to be doing regular nights out, sleeping in your cab and be available to work overtime on specified weekends.
Required:
A bit about you
Apart from holding a LGV1 licence with a maximum of 6 points and no current DD/DR/TT points/disqualifications….
You'll have a good knowledge of the UK road network and be experienced driving in Europe.
You'll relish the opportunity to travel long distances within the UK and into Europe, to some 'out of the ordinary places'.
You'll have a good knowledge of drivers' hours rules and road traffic regulations and abide by them at all times.
You'll get along with people. This is important because you will be driving as part of a double manned team and sometimes as part of a convoy.
You'll be an individual who takes pride in their work, shows care and attention to detail. We're moving security sensitive and high consequence loads.
You'll be someone who has a positive 'can do' outlook and who wishes to provide the best possible service to our customers. This means being adaptable and change friendly.  For example we need you to be willing to drive a variety of vehicles from vans to LGV1 and respond to last minute changes.
You'll live within 30 miles or one hour commute of our premises in Silchester, Berkshire or be willing to relocate to the area.
Security clearance is an ongoing requirement and employment offers are made subject to gaining the necessary clearances.  You must be eligible to work in the UK and have:
At least 5 years' UK Residency
5 years' employment history which can be referenced
What we can offer you in return:
Fully funded training & development (ADR, Air Cargo Security, CPC),
28 days annual leave per annum plus you can build up extra service days
Uniform
Pension
Annual bonus (non-guaranteed based on CTS performance)
Life assurance
Salary sacrifice schemes – childcare vouchers and cycle to work
Employee gift cards
Company sick pay (5 days in 12 month rolling period)
Access to an Employee Assistance Programme
Plus subsistence/nights out & weekend OT
We hope you like what you've read so far.  Interested? Contact us for an application form and/or more information [email protected] or 01189700179 Option 5.
Casual Drivers (all classes)
£9.27-£12.14 per hour (depending on licence category)
Silchester, Nr. Reading and surrounding area
CTS is a specialist transport company operating a mixed fleet of vehicles from our site in Easter Park, Silchester, near Reading. We offer a rapid response service to our customers and are always looking for careful, professional drivers to join our bank of casual drivers who we use on an ad hoc basis to help us cope with peaks in demand.
You will be transporting specialist cargoes including dangerous goods and other high consequence goods and work will be varied, taking you to unusual destinations throughout the UK and into
Europe.
Hours to suit, dependent on our workload and your availability, but work could include double and single manned, weekdays, overnight stays, weekends, early starts, late finishes, sometimes at short notice.
Required:
Commercial driving experience
Clean driving license (max 3 points)
Applicants must live within a 30-mile radius of CTS premises due to early starts/late finishes and rapid response requirements.
An ADR licence is an advantage but not essential.
Air Cargo Security trained to Cargo Operative (old Level D) an advantage but not essential
Benefits:
Competitive rates of pay
Regular overtime (generous overtime rates apply at weekends and bank holidays)
Training opportunities
Paid annual leave (1 day for every 9 full days worked)
Pension (if eligible)
Employee gift cards.
Security Vetting is a requirement and deployment as a casual driver is subject to obtaining and maintaining the necessary security clearance. Applicants should note that they must be eligible to work in the UK and will be required to provide proof of 5 years' UK residency
Please email for application form and more information to:
[email protected], stating licence category and hours availability.